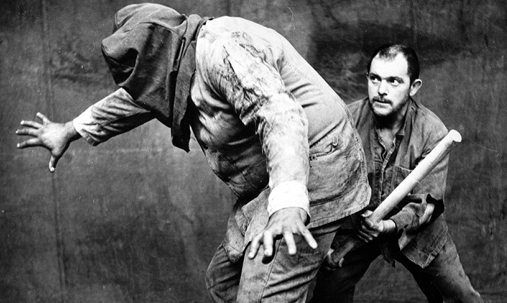 Goto, Island of Love (Goto, l'ile d'amour)
dir.
Walerian Borowczyk
1968
,
1 h 29 min
Grozo, a petty thief works his way up the absurd hierarchy of Goto,
an archipelago cut off from civilization by a tumultuous earthquake. Amongst
his menial tasks are cleaning the governor's boots, attending to the dogs and
catching flies. What keeps him going is the dream of possessing Glossia (Ligia
Branice-Borowczyk), a stifled beauty trapped in a loveless marriage to the melancholic
dictator (Pierre Brasseur). Stunningly designed, Goto, Island of Love is
a film in which bizarre props, atmospheric sets and (most importantly) animals,
are given as much weight on screen as the human actors. Banned in Communist
Poland and Franco's Spain, Goto, Island of Love is arguably Borowczyk's most original
film. Features surrealistic sights, poetic flashes of colour and the stunning
use of Händel's organ concerto.
Written by: Walerian Borowczyk, Dominique Duvergé
Director of photography: Guy Durban
Editing by: Charles Bretoneiche
Music by: Georg Friedrich Händel
Cast: Pierre Brasseur, Guy Saint-Jean, Ligia Branice, Jean-Pierre Andréani, Ginette Leclerc, René Dary
Produced by: Louis Duchesne, René Thévenet
Legend
Przegląd Polskiego Kina Niezależnego
Movie - Festival Programme
| | | DAY 1 – 20th SEPTEMBER 2021 | | BUY |
| --- | --- | --- | --- | --- |
| | | DAY 2 – 21st SEPTEMBER 2021 | | BUY |
| | | DAY 3 – 22nd SEPTEMBER 2021 | | BUY |
| | | DAY 4 – 23rd SEPTEMBER 2021 | | BUY |
| | | DAY 5 – 24th SEPTEMBER 2021 | | BUY |
| | | DAY 6 – 25th SEPTEMBER 2021 | | BUY |