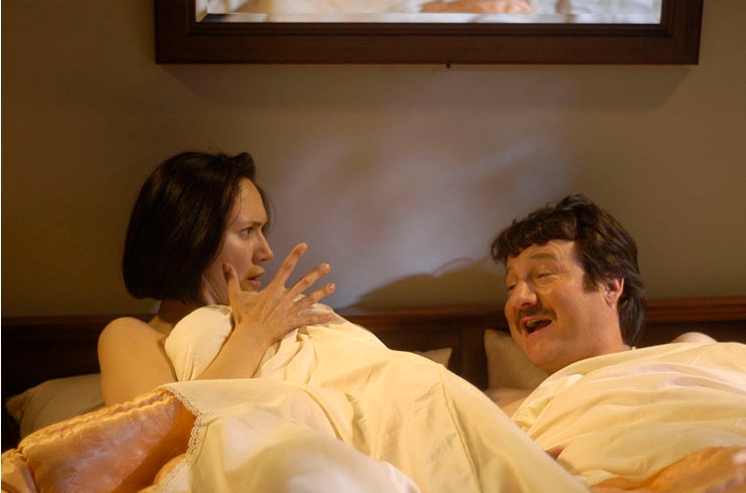 How Much Does the Trojan Horse Weight?
The New Year's Eve of 1999. Zosia is a happy wife and mother. Her second marriage with Jakub is a good one and her daughter from the first marriage adores her stepfather. But Zosia blames her fate for not meeting Jakub 13 years earlier. On the night of the New Year's Eve dreams sometimes come true. Zosia wakes up… in May 1987. But going back in time has not only pleasant consequences. In a bed by her side sleeps her first husband, the daughter is not born yet and Poland is still under communism. How to make things end up well?
Written by: Juliusz Machulski
Director of photography: Witold Adamek PSC
Music by: Jacek Królik
Production design by: Joanna Macha
Sound: Marek Wronko
Editing: Jarosław Pietraszek
Costume design by: Ewa Machulska
Make-up: Monika Kaleta
Production manager: Paweł Bareński, Ewa Jastrzębska
Produced by: Studio Filmowe ZEBRA
Producer: Juliusz Machulski
Co-produced by: Monolith Films; Telekomunikacja Polska; WFDiF
Distributed by: Monolith Films
World sales: Monolith Films
Country and year of production: Poland, 2008
Cast: Ilona Ostrowska (Zosia Albrecht-Radecka), Maciej Marczewski (Kuba Radecki, Zosia's second husband), Robert Więckiewicz (Darek Albrecht, Zosia's first husband), Danuta Szaflarska (Stanisława Zwierzyńska, Zosia's grandmother), Maja Ostaszewska (Lidka, Kuba's first wife), Katarzyna Kwiatkowska (Marta), Sylwia Dziorek (Florka), Krzysztof Kiersznowski (a locksmith), Zdzisław Rychter, Jan Monczka (receptionist)
Length: 122 min.
Movie - Festival Programme
| | | | | BUY |
| --- | --- | --- | --- | --- |
| | | | | BUY |
| | | | | BUY |
| | | | | BUY |
| | | | | BUY |
| | | DAY 6 – 17th SEPTEMBER 2022 | | BUY |