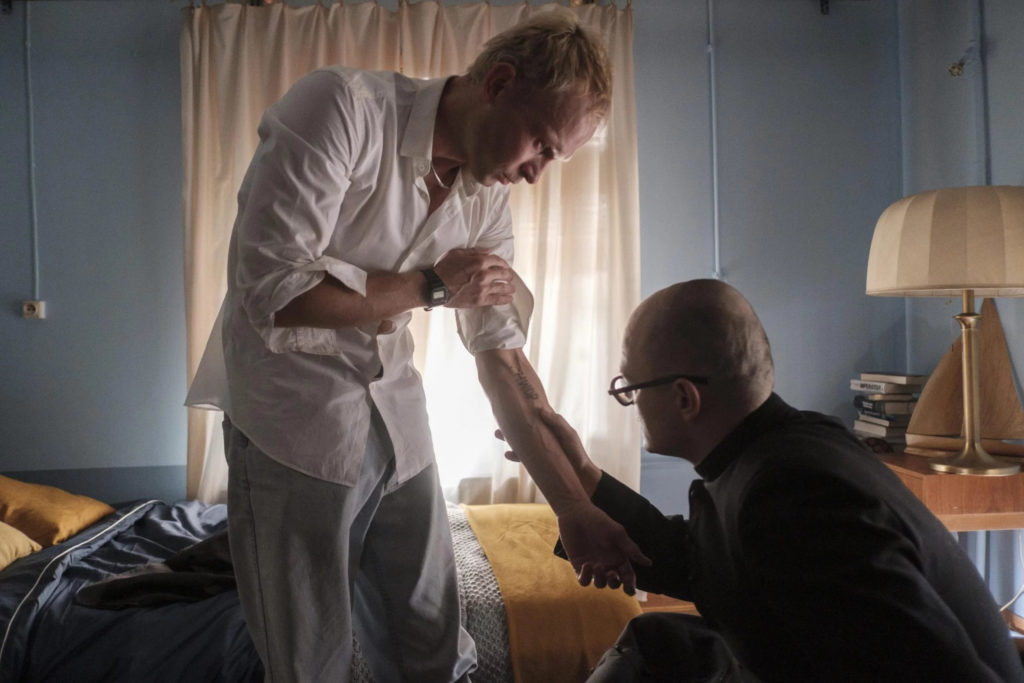 dir.
Daniel Jaroszek
2022
,
1 h 59 min
Based on true events, a story told from the point of view of Jan Kaczkowski's charge, Patryk Galewski – a boy who did not have an easy start into his life.
Patryk breaks into a little house in a small town. The court sentences him to community service at a hospice in Puck where he gets to meet an extraordinary priest, Jan Kaczkowski. The clergyman gets seemingly tough rebellious young vocational school teenagers involved in caring for the terminally ill. In his work he focuses on closeness, sensitivity and fighting for human relations. He teaches empathy with tons of humour, which wins him a lot of popularity. Soon after, Jan becomes a patient of his own hospice. Patryk finds himself in a difficult situation.
The film is the director's full-length feature debut.
directed by: Daniel Jaroszek
written by: Maciej Kraszewski
director of photography: Michał Dąbal
music: Michał Kush
production design: Karolina Rączka
costume design: Zofia Komasa
make-up: Liliana Gałązka
sound: Sebastian Brański, Wojciech Mielimąka, Marcin Kasiński
edited by: Maciej Kozłowski
casting by: Konrad Bugaj
cast: Dawid Ogrodnik, Piotr Trojan, Marta Stalmierska, Maria Pakulnis, Witold Dębicki, Joachim Lamża
production: Next Film
producer: Robert Kijak
co-produced by: TVN, Grupa Moderator Studio Filmowe, Pressprom Sebastian Kwiatkowski, Salander, Dawid Podsiadło, Maciej Woć Muzk Management, Warmia Resort, Open Media, Visual Work Rebel Media, Abstraction Plan, Aneta Graff-Dąbrowska, Esmetric, Cineline, Dreamsound, Kraszewski Film, Dobra Robota
executive producers: Marcin Perzyna, Agnieszka Porzezińska
production manger: Michał Lipski
co-financed by: Polski Instytut Sztuki Filmowej
distributed by: Next Film
Legend
Microbudget Film Competition
Krakow Film Festival Catching Waves
Missing Polish Film Festival
Janusz Korczak - Children's Festival
Movie - Festival Programme
| | | | | BUY |
| --- | --- | --- | --- | --- |
| | 14:45 | Johnny | Teatr Muzyczny - Duża Scena | |
| | 11:00 | Johnny | GCF - Sala Warszawa | |
| | 20:15 | Johnny | GCF - Sala Warszawa | |
| | | | | BUY |
| | 9:30 | Johnny | Teatr Muzyczny - Duża Scena | |
| | 17:00 | Johnny | GCF - Sala Morskie Oko | |
| | 17:30 | Johnny | Helios - Sala 1 | |
| | 22:20 | Johnny | Helios - Sala 5 | |
| | | | | BUY |
| | 19:30 | Johnny | Helios - Sala 1 | |
| | 14:30 | Johnny | Helios - Sala 5 | |
| | 22:30 | Johnny | Helios - Sala 5 | |
| | | | | BUY |
| | 22:00 | Johnny | GCF - Sala Morskie Oko | |
| | 15:00 | Johnny | Helios - Sala 5 | |
| | | | | BUY |
| | 20:00 | Johnny | GCF - Sala Morskie Oko | |
| | | DAY 6 – 17th SEPTEMBER 2022 | | BUY |
| | 13:15 | Johnny | Helios - Sala 5 | |
| | 08:30 | Johnny | Helios - Sala 6 | |