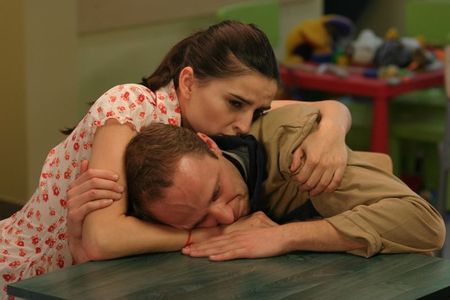 Author statements on current topics by three young women. Three shorts stories created under the "30 Minutes" program.
Non-stop Color
Warsaw clubbers love music and never-ending fun. The film about 30-year-olds who still want to be children.
Inner Road
The main character unexpectedly loses the balance in his life. Is something lurking from beneath the regular events?
Quick Dates Room
The film about the nature of love in the face of a sudden tragedy and the test of time.
I short film
Non-stop Color
Written by: Maria Sadowska
Director of photography: Jeremi Prokopowicz
Music by: Maria Sadowska
Production design by: Marta Skajnowska
Sound: Mateusz Adamczyk, Wojciech Błaszczyk
Editing: Krzysztof Raczyński
Costume design by: Lukrecja Nagabczyńska
Make-up: Aneta Brzozowska
Production manager: Jan Kwieciński
Produced by: Munk Studio
Executive producer: Wytwórnia Filmowa Czołówka
Country and year of production: Poland, 2008
Cast: Anita Jancia-Prokopowicz (Muse), Jan Wieczorkowski (Majkel), Tomasz Borkowski (Cyryl), Eryk Lubos (Baldhead), Paweł Domagała (Młody), Dorota Deląg (Monia), Karina Kunkiewicz (Lukrecja), Anna Piróg (Olga), Joanna Szczepkowska (Muse's mother)
II short film
Inner Road
Written by: Dorota Lamparska
Director of photography: Damian Pietrasik
Production design by: Zuzanna Sadowa
Sound: Piotr Bielawski
Editing: Jarosław Barzan PSM
Costume design by: Natalia Czeczott, Hanna Ćwikło
Make-up: Żaneta Stefańska
Production manager: Wojciech Forbert
Produced by: Munk Studio; TVP Kultura, Wajda School
Executive producer: Wajda School
Cast:
Country and year of production: Poland, 2006
III short film
Quick Dates Room
Written by: Anna Maliszewska
Director of photography: Dominik Danilczyk
Production design by: Anna Maliszewska
Sound: Joanna Napieralska
Editing: Łukasz Szwarc-Bronikowski PSM
Costume design by: Sławek Błaszewski
Make-up: Olga Nejbauer
Production manager: Łukasz Jankowski
Produced by: Munk Studio; TVP Kultura
Executive producer: Opus Film
Country and year of production: Poland, 2008