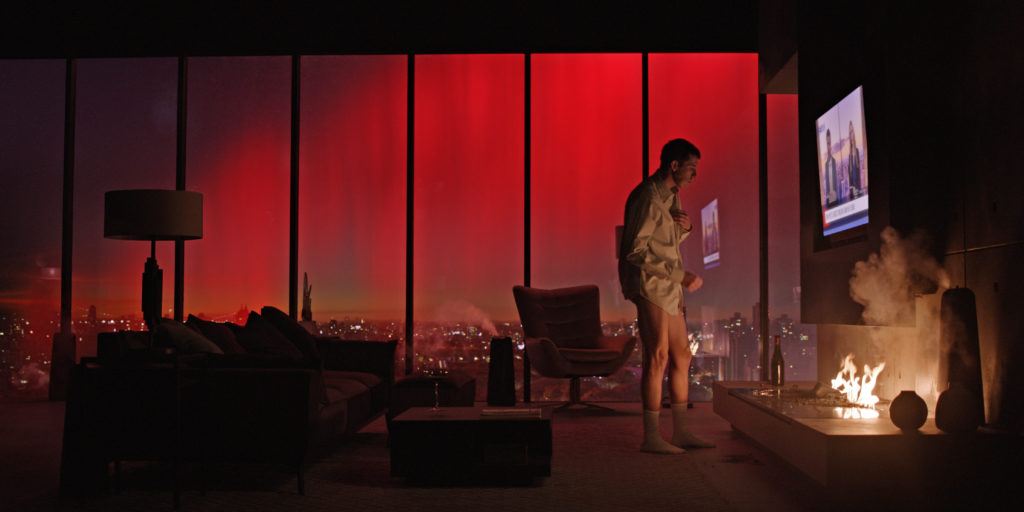 dir.
Filip Jan Rymsza
2021
,
1 h 40 min
August of 2007. Richard Boca (Beau Knapp), an obsessive Wall Street data analyst, lives isolated from the world in an ascetically furnished apartment overlooking Central Park. One day he notices worrying signs: his computer algorithms show anomalies, while the apartment becomes infested with mosquitoes – a plague that pushes him into a mental breakdown.
On Wall Street, they call these analysts "quants" – their mathematical genius helps companies make huge profits. Absorbed by his work, Richard rarely goes anywhere beside his office and his flat. However, he goes to a corporate event where he makes two new acquaintances: ethereal Lena (Charlotte Vega) and a certain unusually persistent mosquito. Both of them burrow deep in Richard's mind, changing his life completely.
Finding common characteristics between the works of Franz Kafka, David Cronnenberg and Mary Harron and her American Psycho, director and screenwriter Filip Jan Rymsza created a new genre of biological horror, which shows the reality on the eve of the market crash in a non-typical way – the events of the film happen during one of the weeks of 2007; signs of upcoming economic and socio-political crisis can be seen everywhere. Mosquito State is a hypnotic study of a fragile mind of an individual, who can spot repeating patterns long before others. This film constitutes another important chapter in the genre of urban solitude and announces the arrival of a new and expressive voice in the independent cinema.
Mosquito State had its world premiere in the official selection of the 77th Venice International Film Festival, where it won Bisato d'Oro award for best cinematography
The film is the director's feature-length debut.
directed by: Filip Jan Rymsza
written by: Filip Jan Rymsza, Mario Zemero
director of photography: Eric Koretz
music: Cezary Skubiszewski
production design: Marek Warszewski
costume design: Katarzyna Lewińska
make-up: Karolina Kordas, Alina Janerka
sound: Zofia Moruś, Marcin Popławski
edited by: Andrew Hafitz, Bob Murawski, Wojciech Janas
casting by: Mary Vernieu, Raylin Sabo, Maria Zmudzińska
cast: Charlotte Vega, Beau Knapp, Audrey Wasilewski, Daisy Bishop, Jack Kesy, Olivier Martinez
production: Wytwórnia Filmów Dokumentalnych i Fabularnych
producer: Włodzimierz Niderhaus
co-produced by: Lightcraft, Royal Road Entertainment
executive producer: Włodzimierz Niderhaus
production manager: Andrzej Besztak
co-financed by: Polski Instytut Sztuki Filmowej
distributed by: Kino Świat
Legend
Microbudget Film Competition
Movie - Festival Programme
| | | | | BUY |
| --- | --- | --- | --- | --- |
| | | | | BUY |
| | | | | BUY |
| | | | | BUY |
| | | | | BUY |
| | | DAY 6 – 17th SEPTEMBER 2022 | | BUY |