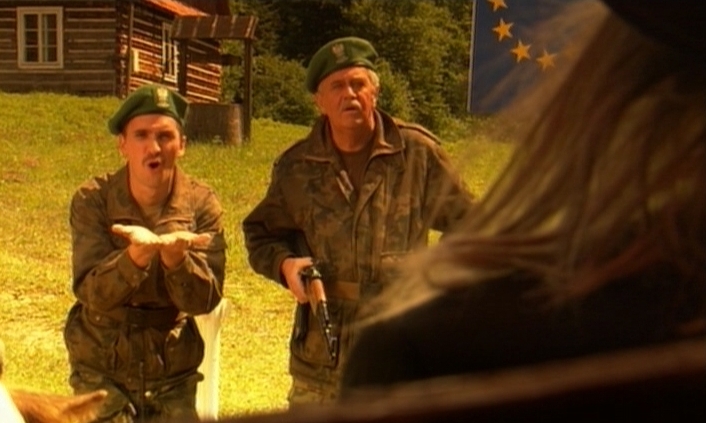 dir.
Bartosz Paduch
NULL
,
0 h 16 min
Border checkpoint in the mountain woods. A strange vehicle approaches the bar, the driver goes out and opens it freely. The guards are forced to intervene immediately – it's a border checkpoint for Christ's sake! After this meeting, they will have to cross a few other lines stuck in their minds. A funny picture of divisions between people, fixed and fake barriers and limits.
Written by: Bartosz Paduch
Director of photography: Michał Sosna
Music by: Krzysztof Pruśniewski
Production design by: Paweł Frankiewicz, Ewa Malinowska, Iwa Kruczkowska
Sound: Ela Pruśniewska
Editing: Krzysztof Woźniak
Costume design by: Ewa Malinowska, Iwa Kruczkowska
Production manager: Michał Jarosik
Produced by: Goethe-Institut
Co-produced by: Krzysztof Kieślowski Faculty of Radio and Television, University of Silesia in Katowice
Executive producer: Odeon Film Studio
Distributed by: Bartosz Paduch
World sales: Bartosz Paduch
Country and year of production: Poland, 2007
Cast: Marian Dziędziel, Mariusz Staniternik, Robert Olech
Length: 16'27 min.
Movie - Festival Programme
| | | DAY 1 - 18th September 2023 | | BUY |
| --- | --- | --- | --- | --- |
| | | DAY 2 - 19th September 2023 | | BUY |
| | | DAY 3 - 20th September 2023 | | BUY |
| | | DAY 4 - 21st September 2023 | | BUY |
| | | DAY 5 - 22nd September 2023 | | BUY |
| | | DAY 6 - 23rd September 2023 | | BUY |