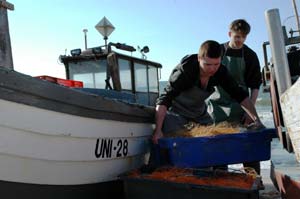 Ode to Joy
Silesia. Aga comes back home after a long stay in England. There, the situation is bad: her father may lose his job because of a strike in a coal mine. Her mother has already been fired from the hairdresser's. Aga decides to invest the money she earned in England into her own hair salon.
Warsaw. Michał wins a radio hip-hop competition. His girlfriend Marta's father decides to send his daughter to study in London. Michał tries to persuade her to stay. His family problems and humiliation from Marta's father, who's doesn't approve their relationship, result in a fight within the couple. The girl doesn't want to see him again.
Pomerania. After graduation, Wiktor comes back home on a province. He lives with his parents, works in a fish smokehouse and hangs out with his friends Rysiek, a wino, and Eryk, a loser. Wiktor can't live in a family home any more. His mother wants to rent his room out to tourists. After a fight with a boos who skips payment, Wiktor quits work. Eryk offers him to go abroad. Nobody knows how did he get the money, but he's willing to pay for the trip.
Written by: Anna Kazejak-Dawid, Jan Komasa, Maciej Migas
Directors of photography: Klaudiusz Dwulit (Silesia), Piotr Niemyjski (Warsaw), Radosław Ładczuk (Pomerania)
Music by: Jacek Lachowicz
Production design by: Arkadiusz Kośmider
Costume design by: Magdalena Biedrzycka
Editing: Maciej Pawlicki, Bartosz Pietras, Rafał Listopad
Sound: Wojciech Chudziński, Robert Czyżewicz
Cast: Małgorzata Buczkowska (Aga), Dorota Pomykała (Aga's mother), Barbara Kurzaj (Danka), Piotr Głowacki (Michał), Roma Gąsiorowska (Marta), Lesław Żurek (Wiktor), Tomasz Lengren (Wiktor's father), Jan Dravnel (Eryk)
Production manager: Kamil Przełęcki
Produced by: Akson Studio
Co-produced by: Polish Television Film Agency, Canal+ Polska, Agencja Produkcji Filmowej (co-financing)
Executive producer: Akson Studio
Producers: Michał Kwieciński, Krzysztof Gierat
Movie - Festival Programme
| | | DAY 1 – 20th SEPTEMBER 2021 | | BUY |
| --- | --- | --- | --- | --- |
| | | DAY 2 – 21st SEPTEMBER 2021 | | BUY |
| | | DAY 3 – 22nd SEPTEMBER 2021 | | BUY |
| | | DAY 4 – 23rd SEPTEMBER 2021 | | BUY |
| | | DAY 5 – 24th SEPTEMBER 2021 | | BUY |
| | | DAY 6 – 25th SEPTEMBER 2021 | | BUY |