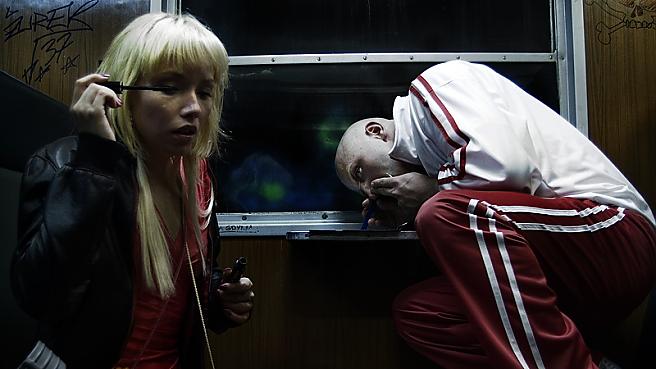 Snow White and Russian Red
dir.
Xawey Żuławski
NULL
,
1 h 48 min
Silny's relationship with Magda is not working out. Their live is a constant fight. Full of rage, Silny will race through his life with the speed of a bolide, meeting on his way a bunch of extraordinary women: Andżela – a sensitive virgin full of wacky dreams, Nata – an old friend who likes sniffing instant soups, Ola – shy only on the outside, a merciless seductress attracted by Silny's simple-mindedness and… Dorota (Dorota Masłowska) whose head hosts this film. An adaptation of Dorota Masłowska's bestselling novel.
Written by: Xawery Żuławski
Based on the novel by Dorota Masłowska
Director of photography: Marian Prokop
Music by: Jan Komar
Production design by: Joanna Kaczyńska
Sound: Mateusz Adamczyk
Editing: Krzysztof Raczyński
Costume design by: Anna Englert
Make-up: Natalia Król
Production manager: Paweł Ziembaczewski
Produced by: Film Media
Producer: Jacek Samojłowicz
Distributed by: ITI Cinema
World sales: Film Media
Country and year of production: Poland, 2009
Cast: Borys Szyc (Silny), Roma Gąsiorowska (Magda), Sonia Bohosiewicz (Natasza), Maria Strzelecka (Angela), Michał Czernecki (Lewy), Bartek Firlet (Kacperek), Ewa Kasprzyk (Silny's mother), Anna Prus (Ala), Magdalena Czerwińska (Arleta), with a cameo appearance of Dorota Masłowska
Length: 108 min.
Movie - Festival Programme
| | | DAY 1 – 20th SEPTEMBER 2021 | | BUY |
| --- | --- | --- | --- | --- |
| | | DAY 2 – 21st SEPTEMBER 2021 | | BUY |
| | | DAY 3 – 22nd SEPTEMBER 2021 | | BUY |
| | | DAY 4 – 23rd SEPTEMBER 2021 | | BUY |
| | | DAY 5 – 24th SEPTEMBER 2021 | | BUY |
| | | DAY 6 – 25th SEPTEMBER 2021 | | BUY |