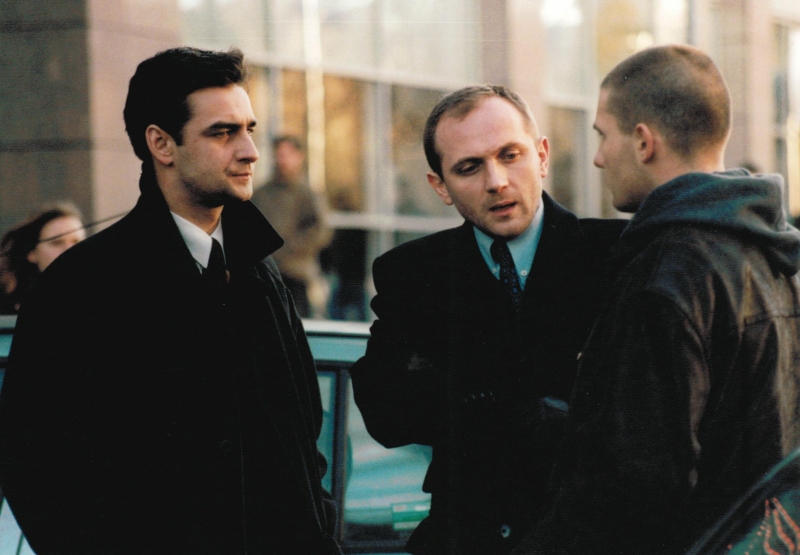 The Debt
Krzysztof Krauze
presents Polish reality of the 1990s. Adam and Stefan, two young intellectuals, quit their studies to start their own business. However, in order to get things going they need capital. When bank refuses them a loan, they are approached by Gerard, an old friend of Stefan's. Ultimately, they refuse his offer as the commission is far too high but they soon learn that they are in debt nevertheless. The debt is hardly specified but it grows by the day. The nightmare begins – threats, harassing, violence. They give Gerard all they have but they do not stand a chance against the ruthless criminal. Helpless and left to their own devices by the police they ultimately realise that the only way to put an end to this nightmare is to kill their tormentor.
An unusual case of life and art coming together – a real life event inspiring a movie which, in turn, due to its popularity and the audience identifying with the lot of the heroes, influenced the lives of the models of the two main characters.
CYFROWE REPOZYTORIUM FILMOWE (DIGITAL FILM REPOSITORY) IS THE PARTNER OF PURE CLASSICS AT THE 38. GDYNIA FILM FESTIVAL.
Produced by: Zebra Film Studio
Legend
Przegląd Polskiego Kina Niezależnego
Movie - Festival Programme
| | | DAY 1 – 20th SEPTEMBER 2021 | | BUY |
| --- | --- | --- | --- | --- |
| | | DAY 2 – 21st SEPTEMBER 2021 | | BUY |
| | | DAY 3 – 22nd SEPTEMBER 2021 | | BUY |
| | | DAY 4 – 23rd SEPTEMBER 2021 | | BUY |
| | | DAY 5 – 24th SEPTEMBER 2021 | | BUY |
| | | DAY 6 – 25th SEPTEMBER 2021 | | BUY |