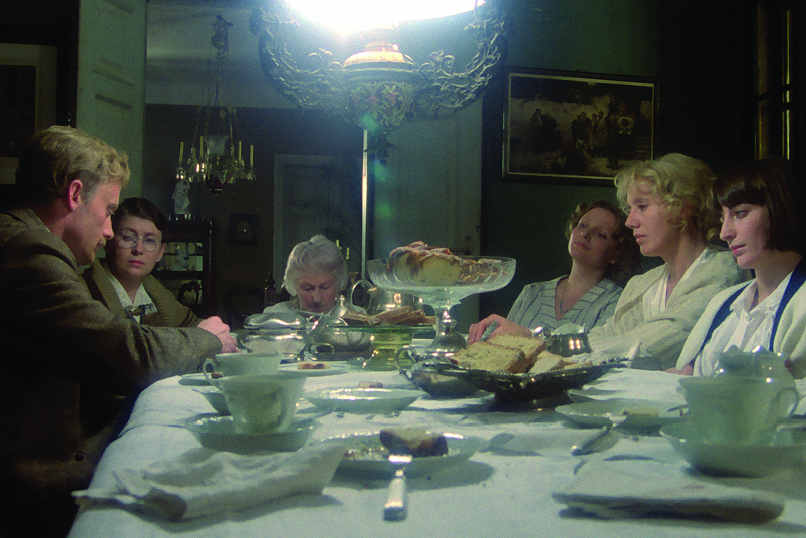 The Maids of Wilko
dir.
Andrzej Wajda
1979
,
1 h 57 min
1929. Wiktor Ruben (Daniel Olbrychski),
saddened by the sudden death of a friend, follows his doctor's advice
and retires to the country. After 15 years' absence, Ruben visits the
places of his youth – the house of his uncle and Wilko, a manor in the
neighbourhood the inhabitants of which, six sisters, he once spent
unforgettable summer holidays with. A man just past his prime, Ruben
would like to relive the experience, but meetings with the maids, most
of whom are now married, make him realise that nothing is going to be as
it was that summer… Accepting the inevitability of the passage time,
the man leaves Wilko and while crossing a river on a ferry he takes a
symbolic sip of water from the river, as if drinking from the Lethe, the
river of forgetfulness.
A masterful adaptation, one of the greatest
in the history of Polish cinema. Short stories from the 1930s were
supplemented with the perspective of the main hero of the later short
story Sérénité as well as Jarosław Iwaszkiewicz himself which altered
the bitterness of the literary original and replaced it with nostalgia.
The mode of the movie is strengthened by the music of Karol Szymanowski.
The Maids of Wilko is a tale of the passage of time, its inevitability
and one's acceptance, as well as a portrait of a group of women played
by eminent actresses (Maja Komorowska, Anna Seniuk, Stanisława Celińska, Krystyna Zachwatowicz, Christine Pascal). Excellent camerawork of Edward Kłosiński, designs of Allan Starski, and an Academy Award nomination for the Best Foreign Language Film.
Written by: Zbigniew Kamiński (wg opowiadania Jarosława Iwaszkiewicza)
Director of photography: Edward Kłosiński
Music by: Karol Szymanowski
Producton design by: Allan Starski
Cast: Daniel Olbrychski, Anna Seniuk, Maja Komorowska, Stanisława Celińska, Krystyna Zachwatowicz, Christine Pascal, Zofia Jaroszewska, Tadeusz Białoszyński, Zbigniew Zapasiewicz, Joanna Poraska, Andrzej Łapicki, Kazimierz Brodzikowski, Paul Dutron
Production manager: Barbara Pec-Ślesicka
Produced by: PRF "Zespoły Filmowe" – Zespół "X"
Legend
Konkurs Fabularnych Filmów Krótkometrażowych
Movie - Festival Programme
| | | DAY 1 – 20th SEPTEMBER 2021 | | BUY |
| --- | --- | --- | --- | --- |
| | | DAY 2 – 21st SEPTEMBER 2021 | | BUY |
| | | DAY 3 – 22nd SEPTEMBER 2021 | | BUY |
| | | DAY 4 – 23rd SEPTEMBER 2021 | | BUY |
| | | DAY 5 – 24th SEPTEMBER 2021 | | BUY |
| | | DAY 6 – 25th SEPTEMBER 2021 | | BUY |