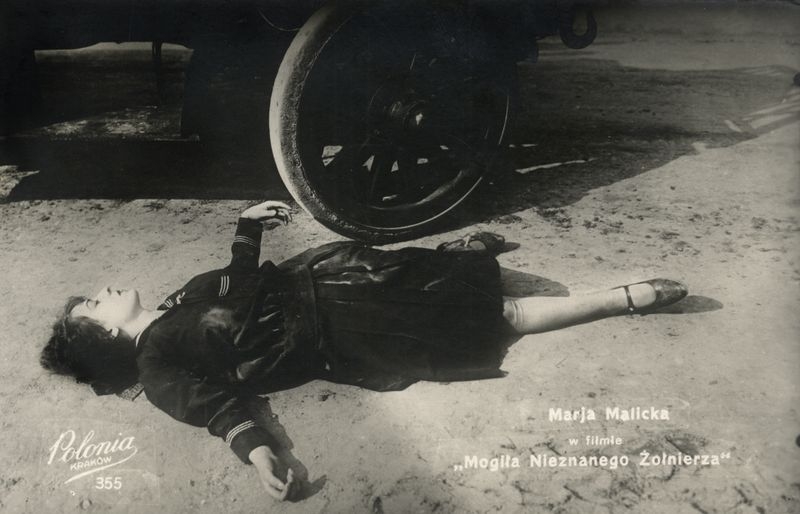 The Tomb of the Unknown Soldier
The year 1916, Captain Łazowski says goodbye to his wife and daughter, who deeply loves him, and goes to the front. After murderous battle with the superior strength of the Russian army, he is taken prisoner. He manages to escape from the Siberian settlement thanks to the help of Ksenia, a woman who falls in love with him. In dramatic circumstances he gets to know the duchess Turchanowa, who is the proprietor of vast worldly goods. Revolution spreads through Russia. Concealing his identity under a fake Russian name, Łazowski starts to work in an ammunition factory. However, he is soon unmasked by a Russian commissar Simonow so he escapes towards the Polish border. After many dramatic encounters, when he crosses the Polish-Soviet front line, he dies from a stray bullet.
The film copy has been digitalized and subjected to digital restoration by National Film Archive and CMC Sp.z o.o., which was co-financed by Polish Film Institute. The presented version was produced on the basis of three carriers from the archive of National Film Archive – a nitrate film tape and both Polish and French dupnegative films.
Music for the film was composed by Rafał Rozmus. It was recorded in the seat of the Karol Namysłowski Symphony Orchestra in Zamość with the participation of its musicians as well as the Rafał Rozmus Chamber Orchestra conducted by the composer.
Written by: Ryszard Ordyński, Seweryn Romin
Director of photography: Antoni Wawrzyniak
Production design by: Wacław Moszkowski, Józef Galewski
Cast: Jerzy Leszczyński, Maria Malicka, Nina Olida, Konstancja Bednarzewska, Maria Gorczyńska, Leokadia Pancewiczowi, Władysław Walter, Jerzy Marr
Produced by: Star-Film
Legend
Przegląd Polskiego Kina Niezależnego
Movie - Festival Programme
| | | | | BUY |
| --- | --- | --- | --- | --- |
| | | | | BUY |
| | | | | BUY |
| | | | | BUY |
| | | | | BUY |
| | | DAY 6 – 17th SEPTEMBER 2022 | | BUY |