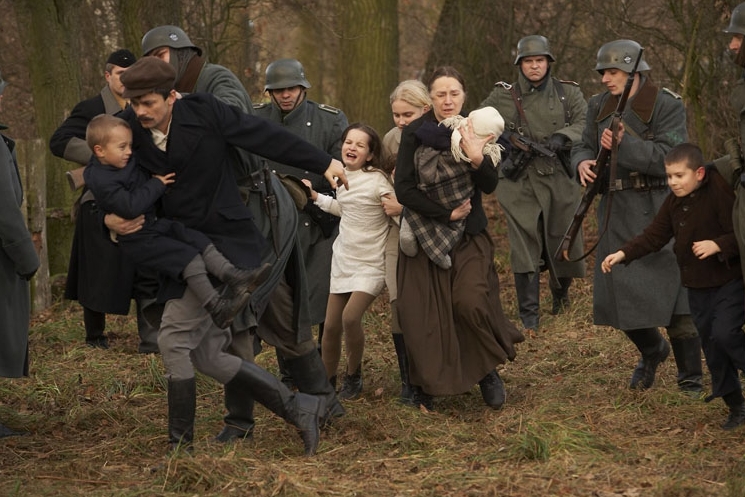 The Story of the Kowalski Family
In the autumn of 1942, Adam and Bronisława Kowalski from Ciepielowo hid their Jewish neighbors regardless of the fact that during World War II it was a crime punished with death. In the morning of 6th December 1942, the division of military police surrounded their house as well as the houses of Obuchowicz, Kosior and Skoczylas families… The feature attempt to recreate a life in a typical Polish town and Polish-Jewish relationship at the time of German occupation complemented with the relations of eye witnesses.
Written by: Arkadiusz Gołębiewski, Maciej Pawlicki
Director of photography: Tomasz Madejski
Music by: Marcin Pospieszalski
Production design by: Michał Sulkiewicz
Sound: Radosław Ochnio
Editing: Iza Pająk, Maciej Kozłowski, Rafał Salata
Costume design by: Małgorzata Gwiazdecka
Make-up: Janusz Kaleja
Production manager: Agnieszka Majle-Pawlicka
Produced by: PICARESQUE Maciej Pawlicki
Producer: Maciej Pawlicki
Co-produced by: Telewizja Polska SA
Distributed by: PICARESQUE
World sales: PICARESQUE Maciej Pawlicki
Country and year of production: Poland, 2009
Cast: Maja Berełkowska, Artur Lis, Jolanta Grusznic-Nowicka, Wenanty Nosul, Maciej Rayzacher, Ewelina Gnysińska
Length: 85 min.
Movie - Festival Programme
| | | DAY 1 – 20th SEPTEMBER 2021 | | BUY |
| --- | --- | --- | --- | --- |
| | | DAY 2 – 21st SEPTEMBER 2021 | | BUY |
| | | DAY 3 – 22nd SEPTEMBER 2021 | | BUY |
| | | DAY 4 – 23rd SEPTEMBER 2021 | | BUY |
| | | DAY 5 – 24th SEPTEMBER 2021 | | BUY |
| | | DAY 6 – 25th SEPTEMBER 2021 | | BUY |